Unit 8: Transporting of parcels, luggage and other items in the taxi and private hire industries
Unit 8: Transporting of parcels, luggage and other items in the taxi and private hire industries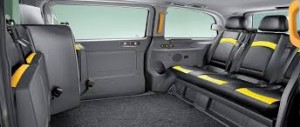 Inside of hackney cab
Unit aim and purpose
The purpose of this unit is to enable learners to understand how to transport parcels, luggage and other items in the taxi and private hire industries.  This unit is particularly suitable for learners who work as drivers of taxis and private hire vehicles and for those who are preparing to enter the industry.
Unit introduction
Taxi and private hire drivers not only transport passengers but also provide a service transporting customers' luggage, parcels and other items.  This is an important part of the service provided to the customer.  This unit will cover the regulations that drivers need to follow when transporting luggage and parcels.  It will also cover the terms 'duty of care' and 'vicarious liability'. Learners will find out how to safely and legally carry a range of goods and learn about the records that need to be kept.
Safe manual handing regulations and techniques will be covered as well as the procedures and regulations covering suspect packages and lost property.
This unit is based on Unit 16 (Transport Parcels, Luggage and Other Items in the Community Transport, Chauffeur, Taxi and Private Hire Vehicle Industries) of the GoSkills' National Occupational Standards for Road Passenger Vehicle Driving