Unit 8: Taxi and Private Hire: Safely Transport School Age Children
Unit title: Taxi and Private Hire: Safely Transport School Age Children
Unit level: SCQF level 5
Credit: 0.5
SQA Unit code: J1GG 45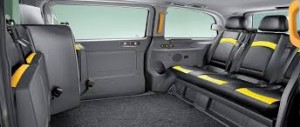 Inside of hackney cab
Unit purpose
The purpose of this unit is to give drivers, vehicle owners and related staff the essential knowledge in transporting children safely. This is to ensure that driver and operators meet the contractual obligations set by the local authority including any special requirements set by the parents or guardians.
This unit is suitable for candidates who currently work or are considering working in the taxi and private hire industry.
The unit stresses the need for licensed taxi and private hire drivers, vehicle owners, operators and booking office staff to be made aware of the special responsibilities they have to abide by when transporting school age children.
When a contract for the carriage of schoolchildren is awarded the local authority or LEA will require policies and procedures in place to safeguard the welfare of the school age child. The unit emphasises the 'fitness to operate' and 'duty of care' expected from drivers and escorts.
The unit provides information on enhanced disclosures namely the DBS or the PVG scheme in Scotland.
The role of the driver and escorts responsibilities are clearly defined with special emphasis on safety around the vehicle during entry and exit. This includes safety training, being a good communicator, being fair and friendly and maintaining a level of control consistent with good practice.
The unit covers the term 'in loco parentis' meaning that all contracted drivers and escorts would be expected to deliver the same standard of care as a caring parent. In particular the unit emphasises the need for absolute discretion and confidentiality and how to raise concerns.
When pick-ups are delayed, or the vehicle breaks down good communication is essential to quickly resolve problems; the unit emphasises the importance of good communication and contingency planning.
The taxi and private hire industry has always been the eyes and ears of the local police. The last learning outcome of this unit deals with the potential problem of school age children being groomed by local gangs to ferry drugs or be harmed through child sexual exploitation.